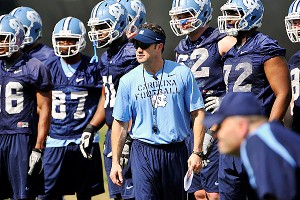 Larry Fedora and his coaching staff was very busy on National Signing Day. They landed 17 of their 18 commitments and assembled a very good recruiting class. Coach Fedora was on ESPNU earlier and had this to say about his class, "a really balanced class, a smaller class but, also one that we felt would be more quality over quantity."
He also said of this group that he thinks they can win "multiple" ACC championships.The group is highlighted with quarterback Mitch Trubisky and running back T.J. Logan on offense and defensive lineman Greg Webb and Dajuan Drennon and defensive back Desmond Lawrence on the defensive side of the ball. There was not a "5-Star" recruit in this class, but it is extremely balanced. There is a lot of potential for this class and Coach Fedora and his staff will get the most out of this class. Also, if we learned anything this college football season it is that even "3-Star" recruits can win the Heisman trophey, just ask
Johnny Manziel
.
Rankings by the experts:
ESPN
Ranked: #20
Rivals
Ranked: #41
Scout
Ranked: #30
2013 North Carolina Tar Heels Football Recruiting class:
1.
Mikey Bart (DE/ 6-3/ 245 lbs.)
2.
Lucas Crowley (OL/ 6-3/ 270 lbs.)
3.
Dajuan Drennon (DE/ 6-4/ 230 lbs.)
4.
Jardan Fieulleteau (WR/ 6-3/ 200 lbs.)
5.
Khris Francis (RB/ 5-9/ 195 lbs.)
6.
Marquis Haynes (DE / 6-3/ 220 lbs.)
7.
Brad Henson (OL/ 6-5/ 295 lbs.)
8.
Jonathan Howard (WR/ 6-4/ 180 lbs.)
9.
Nazir Jones (DL/ 6-5/ 250 lbs.)
10.
Desmond Lawrence (DB/ 6-1/ 175 lbs.)
11.
T.J. Logan (RB/ 5-10/ 180 lbs.)
12.
Donnie Miles (S/ 5-11/ 200 lbs.)
13.
R.J. Prince (OL/ 6-7/ 310 lbs.)
14.
Ryan Switzer (ATH-WR/ 5-10/ 175 lbs.)
15.
Mitch Trubisky (QB/ 6-3/ 195 lbs.)
16.
Brian Walker (CB/ 5-11/ 175)
17.
Greg Webb (DT/ 6-2/ 310 lbs.)