The greatest rivalry in sports can only truly be appreciated if you understand what is at stake. Carolina and Duke are two schools only separated by 8 miles, with a rivalry that is a mix of hatred and respect. On a Carolina and Duke game day there are varying hues of blue throughout North Carolina towns. It's not necessarily a state divided as many people believe. There are far more Tar Heel fans than Duke fans, it's not even close.
It is something that is instilled at a very young age. I remember being able to miss school in order to watch Carolina play in the early game of the ACC tournament. The very first song I can remember my father singing was "I'm a Tar Heel Born, I'm a Tar Heel Bred and when I die I'll be a Tar Heel Dead."
The start of the Carolina and Duke rivalry can be traced back to a game in 1961 when Carolina guard Larry Brown drove inside and was intentionally fouled hard by Duke's Art Heyman. Brown threw the ball at Heyman and that sparked a riot of players and students, it took more than 15 minutes to restore order.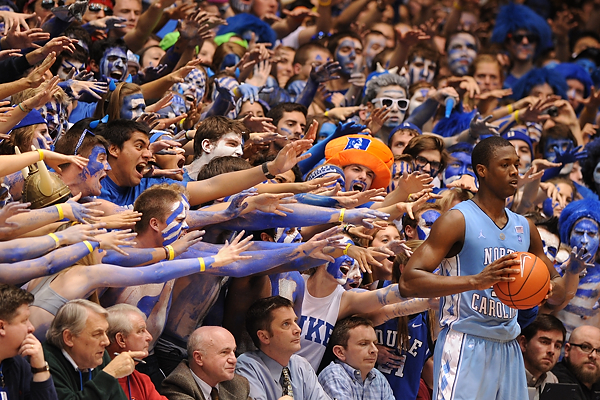 Lance King/BDN
When Coach Dean Smith began at North Carolina he knew that Duke out matched him. In a ACC tournament game in 1966 Coach Smith first ran Four Corners. Carolina held Duke to 21 points, but unfortunately they only scored 20 points. This sparked Smith to go out and recruit players that could compete with Duke.
The next three seasons Carolina won the ACC and beat Duke on a regular basis. Coach Smith helped desegregate Chapel Hill and brought in Charlie Scott, Carolina's first African American player. In 1969 he led a Carolina comeback in the ACC Final and scored 28 of his 40 points in the second half. Carolina began to dominate and Duke was struggling. In 1973 Duke had a losing record, their first in 34 years.
Danny's Dunk on Greg Paulus
However, in 1974 Duke was on the way to pulling off an upset over North Carolina. They led by 8 points with 17 seconds left to play but Bobby Jones hits two free throws to cut the lead to 6. Carolina then stole the inbounds pass and laid it in to cut it to 4, then they force a turnover and cuts the lead to 2. Duke then missed a free throw and Carolina called a timeout with 3 seconds left. They inbound to Walter Davis and he hit a shot at the buzzer to send the game into overtime where Carolina would easily win.
Duke was in the middle of losing 16 of 17 games against Carolina and the rivalry was dying out. Duke did show a little life at the end of the 1970s and seemed to split with Carolina on a regular basis.
A significant event in this rivalry happened in March of 1980. Duke needed to hire a coach and turned to a little known coach at Army named Mike Krzyzewski. This came after several seasons in which Duke went 4-12 against Carolina and Dean Smith during which time the Tar Heels won a championship.
In the late 80's Coach K was able to bring in players to compete including a Player of the Year candidate in 1989 named Danny Ferry. That season, Carolina beat then #1 ranked and undefeated Duke in Cameron. Later in the season Duke returned the favor by winning in Chapel Hill. After jabs in the media by both coaches throughout the season the two teams met in a physical and brutal game. It is said that after an exchange between Coach K and a Tar Heel player, Dean Smith and Krzyzewski began arguing back and forth. Carolina went on to win the game and the ACC championship.
Bloody Montross
After two NCAA championships for Duke and one for Carolina in the early 90s Coach K had "health issues" in the 1994-95 season and when Carolina came to Durham the Blue Devils were barely above .500 and winless in the ACC. You could throw the records out because it took the #2 ranked Tar Heels 2 overtimes to win 102-100. Duke guard, Jeff Capel hit a half court shot at the buzzer to send the game to overtime which to this day a lot of people think was to win the game.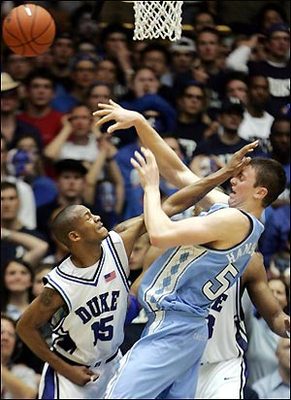 The "Real Victim" and Hansbrough
In October of 1997, legendary Tar Heels coach Dean Smith retired after 36 seasons. The programs began to take different directions as Duke began to dominate the rivalry.
After having the same coach for 36 years, the Tar Heels hired their third coach in 7 seasons. After snubbing Carolina to stay at Kansas in 2000, Roy Williams could not spur his Alma Mater and former coach twice as he was named the head coach of the Tar Heels. Former head coach, Matt Doherty left Roy Williams with talent as his previous two recruiting classes consisted of Jawad Williams, Melvin Scott, Jackie Manuel, Raymond Felton, Sean May and Rashad McCants.
The conclusion of the 2005 season was Senior Night for Williams, Scott and Manuel in Chapel Hill. After a disappointing loss in Cameron earlier in the season the Tar Heels battled back from being down 9 with 3 minutes left to play. Freshman Marvin Williams completed an old fashion three point play when he was fouled on a put back. The Tar Heels went on to win the game and the NCAA championship.
That off season, the Tar heels saw seven of its leading scorers leave. What was meant to be a rebuilding year we saw a young Tar Heels team led by senior David Noel and freshman Tyler Hansbrough go into Cameron, on JJ Redick and Sheldon Williams senior night, and defeat the #1 ranked Blue Devils. Hansbourgh, Bobby Frasor and Danny Green did not lose in Cameron Indoor Stadium any of their 4 years in school. In Hansbrough's sophmore year the game was all but over when Gerald Henderson came crashing into the lane and deliberately hit Hansbrough in the nose causing it to break. After the game Coach K said that Carolina probably should not have had their players in the game and the "real victim" was Gerald Henderson.
Through the decades the rivalry momentum has swung back and forth like a pendulem. Two things remain the same: Duke needs Carolina and Carolina needs Duke. They make each other step up their game because if they don't they will get left in the dust.
I asked several former player, via twitter, what their favorite memory of the Carolina and Dook rivalry. Here were their responses:
Jawad Williams (2001-2005) said, "Beating Dook on Senior night on Marvin Willams and 1."
Scott Williams (1986-1990) favorite moment was "beating then #1 ranked Duke and the National Player of the Year in Durham in 1989!"
David Noel (2002-2006) said "that's easy the 2006 win at Dook my Senior year."
Quentin Thomas' (2004-2008) favorite memory was "the atmosphere, especially in Cameron."
Marcus Ginyard (2005-2010) said, "watching thousands of replays of Danny (Green) dunking on (Greg) Paulus." Also, his first victory in Cameron was a favorite memory.
Will Graves (2007-2010) says, "as a true Tar Heel fan before anything I would say checking into the game for the first time against Dook was my favorite memory!"
Bobby Frasor's (2005-2009) favorite moment was "winning at Duke in 05-06 season as a freshman on their Senior night."
J.R. Reid (1986-1989) simply said "the 1989 ACC Championship.
What is your favorite moment from the rivalry?