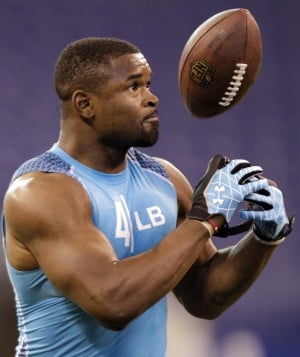 Zach Brown at the NFL Combine
(Michael Conroy/AP)
Charles Brown
(5'9" 202lbs-Cornerback): Brown ran a 4.63 in the 40, had 18 reps of 225 lbs. and a vertical jump of 35.5". Brown is a very physical corner despite his small frame. He has the ability and speed to cover in man coverage at the next level.
Zach Brown
(6'1" 244 lbs.-Outside Linebacker): Zach Brown showed off his athleticism at the combine by running a 4.50 in the 40, he also had vertical jump of 33.5" and a broad jump of 116.0". Some NFL executives have concerns about Brown's work ethic. One NFL Draft analyst has compared his linebacker instincts to former Wake Forest linebacker, Aaron Curry, saying that the comparison is not a compliment. Brown is getting a lot of attention from teams at the end of the first round and the beginning of the second, as he is not expected to go later than the early part of the second round.
Quinton Coples
(6'6" 284lbs-Defensive End): Coples ran a 4.78 in the 40 and also put up 225 pounds 25 times, showing his blend of speed and power. The biggest question mark regarding Coples is his motor and the belief that he takes plays off. Coples athletic ability will
alleviate those concerns as he should still go in the early part of the first round.
Dwight Jones
(6'3" 230 lbs.-Wide Receiver): Jones ran a 4.55 in the 40 and had a vertical jump of 33 inches. Jones had a disappointing Senior Bowl and needed a strong combine and pro day to get early round consideration. He did have a pretty solid combine speed wise but was below average in other drills. Some NFL scouts feel like he is underweight which hinders his ability to go over the middle. Jones is a projected third/fourth rounder in the upcoming draft but there is still time for him to show a team that he is worthy of an earlier pick.
Donte Paige Moss
(6'3" 268lbs-Defensive End): Paige-Moss was unable to participate in most of the drills but was able to put up 26 reps of 225 pound on the bench press. No one doubts Paige-Moss' athletic ability but his on field consistency leaves something left to be desired. Paige-Moss is also battling to comeback from a torn ACL injury and is not expected to play in his rookie season.
Tydreke Powell
(6'2" 311lbs-Defensive Tackle): Powell ran a 5.36 in the 40 and had 29 reps on the bench press. Powell's biggest weakness is his unathleticism which limits his ability to get off the ball fast enough. Powell has a very powerful upper body and is expected to go later in the draft. He could help provide defensive line depth for many teams.