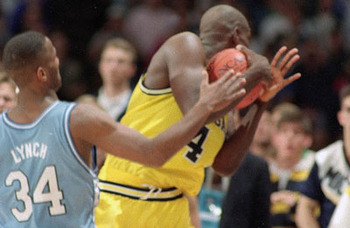 Number 3: No Timeouts!
When the Tar Heels won the championship in 1982 I was not even three yet so I have NO memories of this game. Everything I seen was on a program that ESPN had in the early 90s that showed the highlights of past Final Fours. There I lived the glory of 1982 and the disappointment of 1977. In 1993 the Tar Heels were in the National Title game for the first time since 1982 and it was the first time I had butterflies for a game that I could not control the outcome. I watched Donald Williams stamp his legacy in Carolina folk lure as the Sophomore was MOP of the Final Four. That honor would not come easy as the Tar Heels faced the Fab Five of Michigan, who lost in the title game the year prior. Carolina held a small lead as Chris Webber grabbed a rebound with under a minute to play. I watched as the refs let a travel go uncalled but the Tar Heels were resilient in defense and trapped Webber, on the corner, as he crossed mid court. He then called a timeout Michigan did not have that allowed Carolina to capture its second title under Dean Smith and the first I enjoyed live.
Number 2: Danny's Dunk
Even though this was only a regular season game this is my second favorite moment as a Tar Heel fan. I was at Wild Wing Cafe in downtown Charleston, SC watching the game with friends, one of whom is a die hard dookie. I had on my Tar Heels gear including a hat that I have had since high school that my dook friend has told me on numerous occasions he is tired of seeing. He was wearing his new "Carolina Sucks" shirt that I was quickly hating. Danny Green grabbed a rebound and went down court and posterized the "hated" Greg Paulus. The most memorable thing for me though was the look disappointment and disbelief on my friends face.
Number 1: Redemption
2002 was the most disappointing year for me as a sports fan. For the first time in my lifetime, my beloved North Carolina Tar Heels not only missed the NCAA tournament but finished a horrible 8-20 missing out on any post season tournament. It was a year that was very tough to watch. My Tar Heels had always finished in the top 3 of the ACC but that year, dead last! Freshman Jawad Williams, Jackie Manual and Melvin Scott did not sign up for this. They came to Carolina because of their winning tradition and legacy. One bright spot was that Head Coach Matt Doherty was bringing in 3 of the top 10 high school recruits Rashad McCants, Raymond Felton and Sean May. Fast forward three years later Doherty had been fired and long time Kansas coach and Dean Smith pupil, Roy Williams was brought in to replace him. Carolina did not go into the tournament as the favorite but would meet the favorite, Illinois Fighting Illini, in the finals. Illinois went undefeated until the last game of the regular season against Ohio State. Illinois had battled back from a 13 point first half deficit but the Tar Heels would not roll over. On the back of Sean May's 26 points and 10 rebounds, Roy Williams got his first title as a head coach. The 8-20 season was a distant memory and made this championship even sweeter. I watched this game with no one, I paced back and forth yelling at the TV as if I was the head coach. When Jim Nantz said "College basketball has a new Dean" I had chills and even let a tear of joy run down my cheek.
Follow us on Twitter: @uncpros