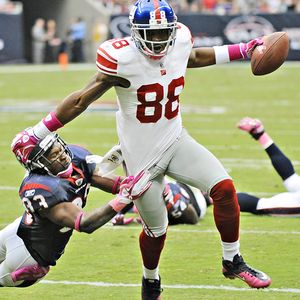 AP/Dave Einsel
Originally I found myself with no rooting interest in the Super Bowl. I still don't care for Eli Manning's draft day
antics
in 2004 when he basically refused to play for the San Diego Chargers. However, I do like coach Tom Coughlin's "no non-sense" approach to coaching. He is a guy whose
record
is well above .500 and has one Super Bowl ring, but always seems to be on the NFL coaching hot seat due to the extreme pressure of coaching in New York. The Giants have a lot to play for. This would be another Super Bowl win for Eli, giving him one more than his All-Pro Quarterback brother Peyton Manning, and it would also give Coughlin the same number of championships as his mentor and former New York Giant legendary coach Bill Parcels.
As for the Patriots, I don't care for Bill Belichick's arrogant and gruff persona. He also has the black cloud of "Spygate" hanging over his head. Not only will Belichick and "Golden Boy" Tom Brady try to revenge a loss to the New York Giants in Super Bowl XLII, but they will attempt to win their 4th Lombardi Trophy, the first since spygate.
Obviously both teams would gain a lot more respect and accolade by winning the final game of the season. However, when I turn my television on Super Bowl Sunday, I will be shouting "Go Big Blue" as I watch former North Carolina Tar Heel and current Giants Wide Receiver Hakeem Nicks play in his first Super Bowl. Nicks had a record-setting
performance
in the Giants first two playoff games this season but was
relatively quiet
Sunday in San Francisco with 5 catches for 55 yards. Nicks left the game briefly for what appeared to be a shoulder injury. In the Giants first practice this week, Nicks
sat out
due to a sore shoulder. I would expect it would take a lot more to keep Nicks from playing come February 5th.