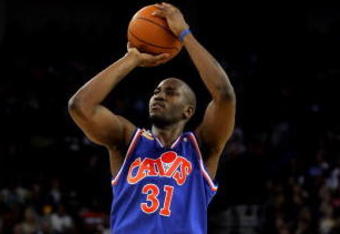 Ezra Shaw/Getty Images
Eric Gay/AP

Jawad Williams
has been
selected
to the French National Basketball League all star team. Williams has been playing for Paris-Williams in France.
Sean May
has been putting up solid numbers in Croatia while playing for the KK Zagreb of the
ULEB Euroleague
. May is averaging
12 points and 7 rebounds
in seven games. He is joined by fellow Americans TJ Ford, who played at Texas, and Josh Heytvelt from Gonzaga.
Rick Fox
has been
honored
by the Indiana Basketball Hall of Fame as a member of the 2012 Hall of Fame Silver Anniversary team.
Dante Calabria
is director of basketball operations at UNC-Wilmington under Buzz Peterson. Calabria
replaced
Brooks Lee who was promoted to assistant over the summer.
Brendan Wright
signed
with the defending NBA champions Dallas Mavericks. Wright will help fill a need in the front court with Tyson Chandler leaving.
Ademola Okulaja
was in
attendance
for Carolina/UNC-Asheville in November. It marked the first time he had been in Chapel Hill since graduating in 1999. Okulaja played throughout Europe before he retired in the Summer of 2010. He is now doing television work for European basketball. Okulaja was diagonosed with cancer in 2008 but is now cancer free and in good health.